Ireland Genealogy Projects (IGP) TM
---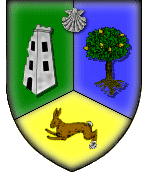 WELCOME!
Samuel Lewis's 1837 Topographical Dictionary of Ireland
on the The Library of Ireland's website

Ancient History
What Sligo looked like during the last ice age.

Military Records for 1800 era Sligo Militia

The county town is Sligo. Other towns are Ballymote, Collooney, Ballysodare, and Enniscrone

Most Common Surnames

Gallagher, Brennan, MacGowan, Kelly, Gilmartin, Healy, Walsh, Hart, Feeney and MacDonagh
---
General Information
Archives and Libraries
County Library
The Courthouse
Sligo

County Sligo Heritage and Genealogy Centre
Aras Reddan
Temple Street
Sligo
Tel: + + 353 71 43728
- - - - - - - - - - - - -

Registrar General Northwestern Health Board
Markeviecz House
Sligo
E-mail List
Online Records
Other Resources
Queries and Surnames
SLIGO TODAY
Be sure to visit our Ireland Genealogy Archives

Be sure to visit other Ireland Genealogy Projects Websites
---
Thanks for stopping by!
Please address questions or comments about this site to:
LAST UPDATED 31 July 2019
This site is hosted by

All pages (html) on this website and all graphic images
created for the County Sligo Genealogy website are © 2001-2002, 2003 by Kathleen Woodside Freiburg.

Overall site copyright by IGP and members.