Ireland Genealogy Projects Archives
Tipperary Headstones
Templetenny Cemetery, Ballyporeen Parish, Tipperary (1 images)
Contributed by Peter Langley



Click a picture to see a larger view. Copyright by Photographer.
---
TRANSCRIPTION OF VARIOUS HEADSTONES FROM TEMPLETENNY CEMETERY, BALLYPOREEN PARISH, CO. TIPPERARY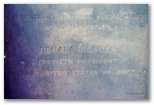 Plaque from cemetery entrance reads:
this is the traditional burial ground of the ancestors of Ronald REAGAN fortieth president of the United States of America

---
Patrick Clancy, Ballyporeen died 1968 aged 70
His wife Catherine, died 1943 aged 44
His father John died 1942 aged 69
His brother John died 1924 aged 18
His daughter Bridget died 1927 aged 1.
His son William died 1944 aged 1.

---
William Dooling of Kilcaroon died Jan 1961
His daughter Ellie died Feb 1928 aged 12 years.

---
O'Brien (Shew)
John O'Brien Gurtaree died 1860
John O'Brien died 1897
Michael O'Brien Ballyporeen died 1925
William O'Brien Ballyporeen died 1928
Patrick O'Brien Ballyporeen died 1932
Michael O'Brien Fermoy died 1933
Patrick O'Brien Ballyporeen died 1954

---
John Brennan, Coolaprivane, Ballyporeen died 1902 aged 68 years
His wife Nanno (nee Fitzgerald) died 1901 aged 68 yrs
Their daughter Mary died 24th Aug. 1963 aged 86 years
Her husband William Fitzgerald died 5th May 1960 aged 86 yrs
Their daughter Henrietta died 4th June 1937 aged 11 yrs

---
Erected by James Fitzgibbon
Glenacunna in memory of his mother
Ellen Fitzgibbon who died Jan 28 1865 aged 80 years
Michael Fitzgibbon died 1919
His son Patrick died 1941
Patrick's sons Christie died 1941
Sean died 1943

---
Erected in memory of William O'Brien, by his sorrowing widow Catherine O'Brien of Lismore who died November 5th 1868 aged 39 years.


---