Know your area - The station area of

Knockindrane, Seskinamadra & Rathnageera.
Knockindrane means 'hill of the blackthorns' or 'sloe bushes', Seskinamadra means 'sledgy marsh of the dogs and foxes' and Rathnageeragh means 'fort of the sheep'. The names of each are very apt with marshy land, blackthorn bushes and sheep runs very much a part of the area. In 1839 it was said of Knockindrane: "Houses are pretty numerous and mostly in clusters, with roads convenient for agricultural purposes. There are two forts, a raheen and a mound near the centre of the townland" At the same time only about half of Rathnageeragh was uncultivated particularly in the south with several bogs in the north. Houses were again "pretty numerous and mainly in clusters with roads convenient for agricultural purposes and in pretty good repair".
This station area forms the south-eastern hinterland of the Parish and more or less forms an arc around Drumphea Church. The road south of the Church gives access to the three townslands, bisecting Knockindrane and Seskin on its way and leaving Rathnageera to the east. Part of the road is said to have been travelled by Fr. John Murphy of Boolavogue on his last journey.
The road also takes in 'Big Nicks Hill' so called after big Nick Sheridan who lived at the top of the hill in Knockindrane House, now inhabited by Jim & Lizzie Eagers, who, we believe are the oldest couple in the parish. Big Nick may have been the son of a Henry Sheridan who was born in 1770 in Co. Wexford, perhaps in Boolavogue, and was one of the contingent who followed Fr. Murphy in their campaign into Carlow following the battle at Vinegar Hill. Henry settled in Seskinamadra. He married twice, his first wife bore him a son, Owen, who also married twice to Rose Hoey and then Sarah Nowlan. His second wife bore him a son named Nicholas who married Catherine Curran.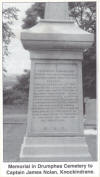 Henry was not the only rebel in the area as an Insurgent called Thomas Doran of vicious behaviour of the crown forces all combined to inspire him to take up arms. Captain Nolan died on April 21st 1857 aged 112 and is buried in Drumphea with his in-laws the Barrys of Knocklonogad who have been well documented for their revolutionary activities in 1798.
A right-of-way to the east side of the road mentioned above leads from Jim Byrne's house through a couple of farms to Flanders/Kavanaghs cross on the Fenagh/Borris road. In years gone by it was used as a short cut by people going to Bagenalstown.
Jim Byrne's grandfather Mike Byrne lived to be over 102 years of age and his wife 97. Another Byrne, Myles (Mylie) Byrne, Lower Rathnageera, excelled at athletics, and was a champion sprinter. He travelled to Glenglass Co. Wexford, who fought in 1798 in the battles of Castlecomer and Kilcumney settled down in Seskinamadra where he married Mary Little whom he had met while marching into the Camp Field in Tomduff. Mary was originally a protestant but turned Catholic and lived to the age of 94.
The third rebel associated with the area was Captain James Nolan, son of Laurence Nolan of Lisgarvin and Anna Wright a quaker from the Kilconnor area who converted to Catholicism. In the 1970's Laurence and Anna were evicted from Lisgarvin and went to live in Knockindrane. James wasn't a scoundrel but the French revolution, American Revolution and perhaps the sports in Counties Carlow, Wexford and Kilkenny along with Frank O'Hara Drumphea, also an athlete and champion weight thrower and a James Egan from Seskin who did the high jump.
Apparently Egan could walk his full height under the cross bar and then jump it clear. While on the question of sport there is some tradition that cricket was a popular sport in the area in the first half of the 20tn century and according to Sarah Tracey Seskin in an essay she wrote while attending Rathnageeragh N.S. in the 1930's the best players were from Rathnageeragh. Bowling was also popular.

In the 'Archaeological Inventory of Co. Carlow' published by the OPW there are brief descriptions of the following historical remains for this Station Area: Rathnageeragh: Castle, Cairn, Knockindrane: Earthwork, Enclosure, two Ringforts, Seskinmadra: Temple Molasha church and burial grounds. We will take a brief look at the most prominent one of these remains - Rathnageeragh Castle which is situated on Hogan's Farm. The remains consist of a square gatehouse of two storeys with at least one higher angle tower represented by the North West wall and parts of the North East wall. The entrance is in the centre of the North West wall leading to a central vaulted passageway between two parallel vaulted chambers.
A courtyard is visible as a slightly raised platform at the South East. The castle bears every evidence of having been a place of considerable extent and great strength. It belonged to the Kavanagh clan. In 1567 a pardon was granted by Queen Elizabeth to 74 of the Kavanaghs and among them were Donagh M'Garet O' Brin, of Rathnageeragh and Brian M'Shane of the same place. In 1603 a pardon was granted to Geratt Kavanagh of Rathnageeragh gnt., and a number of others.
Dr. John Ryan in his 'History of the County Carlow' says of the castle that at an inquisition held at Wells on the 21st December 1631 'Gerrald McMurtagh Kavanagh in his lifetime was seized of the Castle of Rathnegiragh in Co. Catherlogh and of town and lands of Rathnegirgh' Elizabeth granted William Wall and Edmond O'Doyne and their heirs the premises for certain uses. In the Report of the Public Records of Ireland 1825 we find 'Sir Richard Kennedy Knt., 2nd Baron of ye Exchequer getting Rathnageeragh 426 acres'
In the late 1800's a set of manacles and fetters were found near the castle and were said to have been very unique due to the fact they were of gaelic origin. Col. Vigors High Sheriff, Co. Carlow writes in the annals of the Royal society of Antiquaries of Ireland 'I wish to present to the museum of the Royal Society of Antiquaries a pair of heavy leg fetters made of iron and nearly perfect, also one half of a pair of manacles of iron; which lately came into my possession. They were obtained in a boggy field situated outside the bounds of Rathnageeragh Castle Co. Carlow where they were accidentally found by some children at play and being considered of no value, were thrown aside amongst a heap of odds and ends of waste iron where they remained until they came into my possession. I got them from a farmer residing within one hundred yards of the old castle, on whose ground they were found. The massive fetters for the legs even still after being much corroded with rust weigh seven pounds. It is evident the wearer of these bangles was not intended to have much chance of escape.'
Rathnageeragh School

A building now out of use in this station area holds many memories for numerous people in the locality Rathnageeragh School. The initial application for a schoolhouse at Rathnageeragh states it was in the parish of Fenagh, the site was 1 rood, it was non vested, built by local funds in 1883 - a new house one story high, slate roof, with four large windows, two on the front and two on the back, a door on the end, the condition of the house was judged to be excellent consisting of one schoolroom dimensions length 30 foot, breadth 16ft, the condition of furniture was described as new and of good description 4 desks 9 ft long, forms 4 of them 10 ft in length each.
The teacher, Peter Doyle was qualified, the average daily attendance: males 16; females 14 Total 30; School hours 9-3; Religious Instruction from 3 p.m. - 3.15 p.m. Books used were belonging to the National board, 1st, 2nd sequel and 3rd book Arrangement for admission of visitors: admitted at any hour during school time Management of school was under Rev. Ml. Conroy P.P. Myshall. This application was received in the office of Ed. on the 22-3-1864. The following is an extract from the Inspectors Report at the time:
"I have talked to some of the farmers that I met. They expressed anxiety to have the school taken into connection with the Board. The neighbourhood is mountainous, but at the time very populated, and the school is placed on a central position to suit the wants of the people living on the side of and among the mountains. I found that some of the pupils present on the day of my visit, no evidence of being to a National school, and that the great majority had never been to any school. I therefore beg favourable accommodate the application. Michael Healy Inspector of school dated 26-4-1864."
And so a schoolhouse was built and sanctioned and paid for by local funds at Rathnageeragh the precise date of opening as a school was 11tn January 1864 and as a National School was 1st April 1864.
As the area was very populated the attendance to the school increased and a request for a female teacher, a work mistress with a knowledge of needlework and domestic organisation was made. The attendance increased from 30 in 1864 to 96 in 1868. The following is the Inspectors report to the National Board:
"The parents in the neighbourhood frequently spoke to me about getting a work mistress to industrial instructions (needlework and domestic organisation) This could not be done till lately as no one qualified could be got. The appointment of a work mistress to my knowledge will increase the attendance of females that it will be necessary to provide an additional schoolroom and the manager is prepared to build. In a locality like this in among the mountains on the outskirts of Mount Leinster industrial instruction is most necessary and it will be vastly beneficial. I therefore beg to recommend that a salary be granted from the 1st February 1868 to the teacher, a work mistress and Junior literary Assistant. Michael Coyle District Inspector of National Schools".
Following this a female teacher with knowledge of industrial instruction and literary education was appointed -Catherine Kate Lawler a native of Barraderry, Kiltegan Co. Wicklow, stated to be of good character and very competent by Rev. Ml. Conroy P.P. Myshall. She taught school at Rathnageeragh from 1868 to 1900. Catherine Lawler married the Principal Peter Doyle on 8th May 1870.
Rathnageeragh National School remained a two-teacher school until it closed its doors in 1967 when a new temporary school was opened in Drumphea.
Our final snippet of information given to us about this area is that of a resident Billy Hudson. Billy was the owner of a travelling circus and he married Catherine Walsh of Seskinamadra and lived in the house now occupied by Paddy Foley Jnr. Catherine's sister Mary married a man called Watkins and their daughter Kathleen was later to become the wife of radio and T.V. presenter Gay Byrne. The apple tree which grows in Paddy Foley's garden hanging out over the road was sown from a seed by Mary.
This concludes our study not only of this Station Area but of all 10 in the parish which we have featured over the years. We hope you have enjoyed them and gained insight into each area and we would like to acknowledge all the help received from many people in the area particularly this year from Jimmy Nolan, Knockindrane, Mrs. Mairead Fitzgerald Drumphea National School and Paddy Foley Kiloughternane.
Source: Myshall Parish Magazine 2006 & Michael Purcell 2012