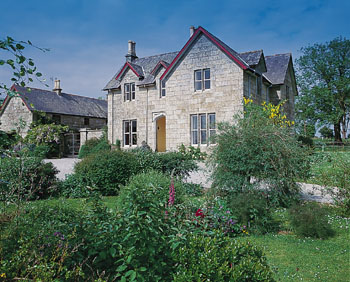 Lorum Old Rectory was built in 1863, from crisp, mellow, locally-cut County Carlow granite which gives the house a feeling of tremendous warmth. The house sits peacefully on the slopes above the River Barrow at Kilgreaney, about half way between Bagenalstown and Borris. Behind the house are Mount Leinster and the Blackstairs Mountains while in front, across the river, are the plains of Kilkenny. Beyond the plains Slievenamon, the Mountain of the Women, in far away Tipperary is clearly visible on fine days.
In the second half of the 20th century the Church of Ireland passed thorough a period of rationalisation. Parishes were amalgamated; churches closed and a number of rectories became redundant and were sold. Among these was Lorum Old Rectory which Mr. Young purchased as a home for his family. Fast forward for another thirty-five years and his daughter Bobbie, on inheriting the house, was forced to make it pay and, together with her late husband Don, decided to provide country house accommodation for visitors to the region.
Source: http://www.hiddenireland.com/lorum/index.htm
---
Lorum is a place known to a few - but in the 19th century, when the protestant church of Ireland enjoyed wealth and state patronage, it was the spiritual hub of a parish which included an exceedingly comfortable and spacious rectory. The clergy have departed and the rectory is now the property of Bobbie Smith, who provides guests with fantastic dinners in a dining room which retains its hint of 19th century opulence. Antique bedrooms with modern comforts provide for rest, to be followed by a most splendid breakfast. The lady of the house, incidentally, is a mine of information on Carlow and the organiser of bicycle tours in the region."
Source: "Jean R." <jeanrice@cet.com> 2006