---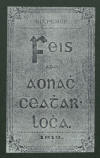 The
programme for the 1913 Carlow Feis is now available on the Irish Traditional Music Archive website.
https://carlowhistorical.com/1913-carlow-feis-programme-now-available-online/
Containing not only the Feis programme and participants, the booklet also has a large number of advertisements for local businesses and interesting articles of historical value. Of particular interest is Marlborough Clarke Douglasís seminal article on the Topography of Carlow as well as a the text of a letter from John Hooker to his employer Sir Peter Carew dated 1568; and articles on the Standing Stone of Ireland and Irish Pipers. This valuable piece of Carlow history was identified by Asst. Professor Paul Horan and can be viewed or downloaded by clicking on the website
.